1st Briana's Hope Festival is a Success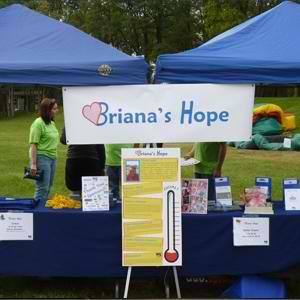 The 1st Annual Briana's Hope Festival hosted by Momentum, Inc. was very successful according to the event organizers.
"I am very happy with our first Briana's Hope Festival," said Ashley Sarabok, Accounting Administrator at Momentum and Project Manager for the event.  "We had an excellent turnout of volunteers and attendees who all seemed to enjoy themselves."
The event raised over $3000 for Briana's Hope, which will be distributed to the organizations who benefit from Briana's Hope, including the Four Diamonds Fund and Johns Hopkins Hospital.
Attendees were estimated at around 200 to enjoy listening to the bands, jumping in the bounce houses, playing games, sumo wrestling, and dunking the Momentum Vice Presidents in the dunk tank.
"Everyone seemed to have a ball-smiles were everywhere," stated Momentum's business partner Susan Graham ower of Susan Graham Consulting and Briana's Hope volunteer.  "This is one more reason we are so proud to work with Momentum."
To view pictures of the event, please visit our Facebook page.
For more information about Momentum and its services, contact Megan Bowman at 717-214-8000 x21 or via Email at mbowman@m-inc.com.
Momentum, Inc. is a women-owned Management Consulting firm based in Camp Hill, Pennsylvania, that specializes in Management Consulting, Process Improvement, Project Management and Implementation Support.