2nd Annual Briana's Hope Charity Event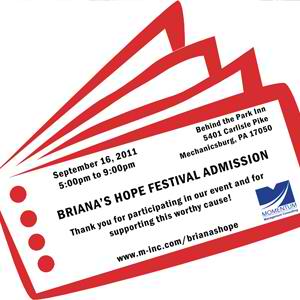 Momentum, Inc. will be holding a family event to benefit Briana's Hope on September 7, 2012 from 6:00 pm to 9:00 pm in Mechanicsburg behind the Park Inn on the Carlisle Pike.  abc27's Valerie Pritchett will emcee the event which will include games, music, raffles, food, and fun for the whole family.  In case of rain, the event will be held on Sunday, September 9th from 1:00 pm to 4:00 pm.
Briana's Hope is an organization developed in the memory of Briana Keefe, a Mechanicsburg 10-year-old who lost her battle with cancer in 2009.  Briana was a 5th Grader at Hampden Elementary School when she was diagnosed with glioma, an untreatable tumor at the base of her neck, earlier the same year.
The Briana's Hope Festival will include live music, raffles, food, and games.  Registration for the event is free.  The festival will include music by Doug Burlew.  Games will be available for children and adults of all ages, including a "frog fling", dime toss, lollipop tree, inflatable jousting and batting games, volleyball courts, miniature golf course and more.
Briana's Hope raises money for the Four Diamonds Fund, Hershey Medical Center Glioma Research, Hospice of Central Pennsylvania and Johns Hopkins Hospital.  The Four Diamonds Fund was originally established for a Central Pennsylvania boy diagnosed with cancer in 1972 and offers financial, medical, and research support for thousands of families in the Central PA area, as well as surrounding states.  Johns Hopkins is where Briana was treated and is a leading hospital in the fight against pediatric cancer.
Momentum, Inc. would like you to join them for this fun-filled event to support Briana's Hope.  Raffle item sponsors include Elaine Gates Photography, Harrisburg Senators, Harrisburg City Islanders, Kenneth and Company Spa, Wegman's, Capital City Carwash, Black and Bleu, BJ's Wholesale Club, and many more.  Momentum would like to ask for your help to raise awareness of this rare and untreatable disease while raising money for the cause so we may one day stamp out pediatric cancer.  For more information or to donate, visit the Briana's Hope webpage at www.m-inc.com/brianashope or contact Ashley Sarabok at (717) 214-8000 ext. 20 or asarabok@m-inc.com.
For more information about Momentum and its services, contact Megan Bowman at 717-214-8000 x21 or via Email at mbowman@m-inc.com.
Momentum, Inc. is an industry-leading Women Business Enterprise Management Consulting firm based in Camp Hill, Pennsylvania, specializing in Management Consulting, Process Improvement, Project Management and Implementation Support.
Contact:
Megan Bowman, Marketing Specialist
Momentum, Inc.
mbowman@m-inc.com
(717) 214-8000 Ext. 21
www.m-inc.com