2nd Annual Briana's Hope Successful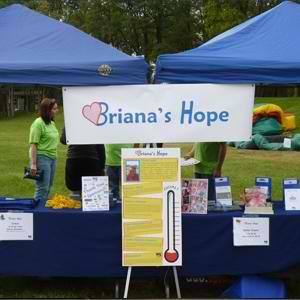 The 2nd Annual Briana's Hope Festival hosted by Momentum, Inc. on September 7, 2012 was a huge success raising about $4,000 for several charities.
Briana's Hope is an organization developed in the memory of Briana Keefe, a Mechanicsburg 10-year-old who lost her battle with cancer in 2009. Briana was a 5th Grader at Hampden Elementary School when she was diagnosed with glioma, an untreatable tumor at the base of her neck, earlier the same year.
The Briana's Hope Festival included live music, raffles, food, and games.
Briana's Hope raises money for the Four Diamonds Fund, Hershey Medical Center Glioma Research, Hospice of Central Pennsylvania and Johns Hopkins Hospital. The Four Diamonds Fund was originally established for a Central Pennsylvania boy diagnosed with cancer in 1972 and offers financial, medical, and research support for thousands of families in the Central PA area, as well as surrounding states.Johns Hopkins is where Briana was treated and is a leading hospital in the fight against pediatric cancer.
Momentum would like to thank everyone that helped to raise awareness of this rare and untreatable disease while raising money for the cause so we may one day stamp out pediatric cancer. For more information or to donate, visit the Briana's Hope webpage at www.m-inc.com/brianashope or contact Ashley Sarabok at (717) 214-8000 ext. 20 or asarabok@m-inc.com.
For more information about Momentum and its services, contact Megan Bowman at 717-214-8000 x21 or via Email at mbowman@m-inc.com.
Momentum, Inc. is an industry-leading Women Business Enterprise  based in Camp Hill, Pennsylvania, specializing in Management Consulting, Process Improvement, Project Management and Implementation Support.
Contact:
Megan Bowman, Marketing Specialist
Momentum, Inc.
mbowman@m-inc.com
(717) 214-8000 Ext. 21
www.m-inc.com