Momentum Bowls for a Cure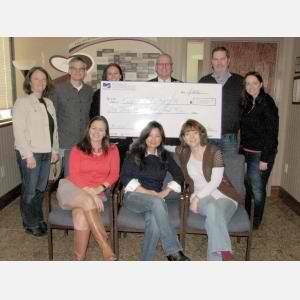 Momentum, Inc. helps strike out childhood cancer by raising money and awareness for Briana's Hope. Each year Momentum holds an event in order to raise money for the charity in memory of Briana Keefe, who lost her battle to a rare form of cancer in 2009.  Last Monday, Momentum employees presented a check to Hospice of Central PA for $1,000 that was raised during last year's Bowling for Briana's Hope event.
Hospice of Central Pennsylvania was just one of the many organizations that helped Briana and her family during her illness.  Briana's Hope raises money for this organization and others that have joined in the fight against childhood cancer, including the Four Diamonds Fund, Penn State Hershey Medical Center Glioma Research and Johns Hopkins Hospital.
For more information or to donate, visit the Briana's Hope webpage at www.m-inc.com/brianashope or Email us at brianashope@m-inc.com.
For more information about Momentum and its services, contact us at info@m-inc.com or call (717) 214-8000.
Momentum, Inc. is an industry-leading Women Business Enterprise Management Consulting firm based in Camp Hill, Pennsylvania, specializing in Management Consulting, Process Improvement, Project Management and Implementation Support.