Momentum, Inc. Donates to New Expansion of Dress for Success South Central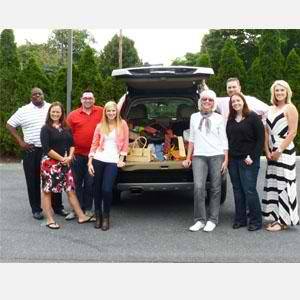 Momentum, Inc., an industry-leading management consulting firm based in Camp Hill, PA, is once again giving back to the community by donating to Dress for Success (DFS) South Central PA. A donation consisting of ties and purses will benefit disadvantaged men and women in the South Central PA area looking to move forward into the work force. Dress for Success promotes the economic independence of women by providing professional attire, career development tools and a network of support to help women thrive. This year, Dress for Success South Central PA has expanded to include a program for men called Tied to Success.
Tied to Success will help men thrive in a personal or professional setting. Following the same business model as the women's program, Tied to Success accepts new or lightly worn professional clothing. The local organization known as Suits to Careers, Inc., has been molded to continue affiliation with Dress for Success while creating the new Tied to Success program. The first fifty clients were veterans designated by the Pennsylvania Veteran's Chamber of Commerce and their Veteran's Connection Center through referrals for people in need of assistance or guidance. Tied to Success held their ribbon cutting open house on September 9, 2014 at their location in Harrisburg, PA for the new men's suite addition.
Momentum supports DFS of South Central PA as part of their "Sharing Our Success" program. Started in 2008, the program is a way to give back to the local community. Dress for Success South Central PA is one of the chosen 2014 charities along with Briana's Hope, the PinnacleHealth Bailey House and Domestic Violence Services of Cumberland and Perry Counties.
For more information about Momentum and its services, contact Momentum at 717-214-8000 or via Email at info@m-inc.com.
Momentum, Inc. is a women-owned Management Consulting firm based in Camp Hill, Pennsylvania, that specializes in Management Consulting, Process Improvement, Project Management and Implementation Support.