Momentum, Inc. Donates to PinnacleHealth Bailey House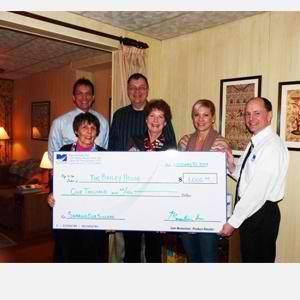 Momentum, Inc. made a donation to the PinnacleHealth Bailey House this week.  As one of the company's chosen charities for 2013, Momentum donated the money in addition to sponsoring and decorating the Stars of Hope Holiday Tree in December.  The Bailey House relies on donations to provide lodging free of charge to family members of PinnacleHealth patients.  Momentum's donation could allow 20 people to stay free of charge.
Bailey House is a "Home Away From Home", which provides a convenient place for families from outside the immediate Harrisburg area to reside while their seriously ill loved one is hospitalized.   The Bailey House is located at 119 & 121 Washington Street (two blocks from Harrisburg Hospital). The 24-hour-a-day facility provides lodging, shared bath, common area with television and telephone, linens and refreshments. A house parent is on duty to supervise its operation as well as offer information and assistance to the patient's family. Guests stay at Bailey House for free. Bailey House is a service of the PinnacleHealth Auxiliary, which greatly appreciate donations to underwrite the cost of Bailey House.
Momentum raises money and awareness for the Bailey House as part of their "Sharing Our Success" campaign.  The company started the campaign in 2008 as a way to give back to the local community.  The PinnacleHealth Bailey House is one of the chosen 2013 /2014 charities along with Briana's Hope, Dress For Success South Central PA, Domestic Violence Services of Cumberland and Perry Counties and more.  In total, the company has donated and raised over $20,000 for these organizations in 2013.
For more information about Momentum and its services, contact Megan Bowman at 717-214-8000 x21 or via Email at mbowman@m-inc.com.
Momentum, Inc. is a women-owned Management Consulting firm based in Camp Hill, Pennsylvania, that specializes in Management Consulting, Process Improvement, Project Management and Implementation Support.
Pictured above, left to right: Back: Rob Carr and Dan Andrews.  Front: Beverly Bosak, Joan Line, Colleen Formica, Tim Smith.