Momentum, Inc. Presents Donation to Hospice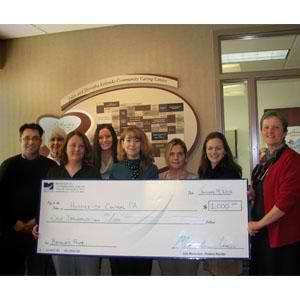 Momentum, Inc. representatives presented a donation to the Hospice of Central Pennsylvania today on behalf of Briana's Hope.
The Donation comes from money raised at the Briana's Hope Festival sponsored by Momentum, Inc. in September.  The hospice will receive a check for $1000.
The mission of the Hospice of Central Pennsylvania is to provide the terminally ill of Central Pennsylvania and their families with compassion, dignity and care through the coordinated delivery of emotional, physical, and spiritual support of the highest quality.
Briana's Hope is an organization developed in the memory of Briana Keefe, a Mechanicsburg 10-year-old who lost her battle with cancer in 2009.  Briana was a 5th Grader at Hampden Elementary School when she was diagnosed with an untreatable tumor at the base of her neck earlier the same year.
The 1st Annual Briana's Hope Festival raised over $3000, which will be distributed to the organizations who benefit from Briana's Hope, including the Four Diamonds Fund, Johns Hopkins Hospital, and the Hospice of Central PA.
Pictured, left to right: Dan Fulton, Susan Long, Megan Bowman, Ashley Sarabok, Jennifer Oswald, Shannon Vella, Emily Burkhart, and Deb Fullham-Winston.
For more information about Momentum and its services, contact Megan Bowman at 717-214-8000 x21 or via Email at mbowman@m-inc.com.
Momentum, Inc. is a women-owned Management Consulting firm based in Camp Hill, Pennsylvania, that specializes in Management Consulting, Process Improvement, Project Management and Implementation Support.
Contact:
Megan Bowman, Marketing Specialist
Momentum, Inc.
mbowman@m-inc.com
(717) 214-8000 Ext. 21
www.m-inc.com