Momentum, Inc. Presents Donation to Penn State Hershey Medical Center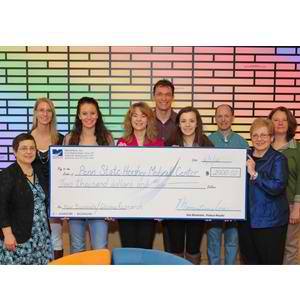 Momentum, Inc. visited the new Children's Hospital at Penn State Hershey Medical Center on December 7th to make a donation on behalf of Briana's Hope to the Four Diamonds Fund and to support Glioma Research.
The donation comes from money raised at the Briana's Hope Festival sponsored by Momentum, Inc. in September.  Each group received $1,000.
The mission of The Four Diamonds Fund is to conquer childhood cancer by assisting children treated at Penn State Hershey Children's Hospital and their families through superior care, comprehensive support, and innovative research.  The organization was originally established for a Central Pennsylvania boy diagnosed with cancer in 1972 and offers financial, medical, and research support for thousands of families in the Central PA area, as well as surrounding states.
Briana's Hope is an organization developed in the memory of Briana Keefe, a Mechanicsburg 10-year-old who lost her battle with cancer in 2009.  Briana was a 5th Grader at Hampden Elementary School when she was diagnosed with a glioma, an untreatable tumor at the base of her neck earlier the same year.
The 2nd Annual Briana's Hope Festival raised about $4000, which will be distributed to the organizations who benefit from Briana's Hope, including the Four Diamonds Fund, Penn State Hershey Medical Center Glioma Research, Johns Hopkins Hospital, and the Hospice of Central PA.
Representatives from Momentum, Inc. were in attendance along with Briana's caregivers from Hershey Medical Center.
Pictured, left to right: Dr. Melanie Comito, Amanda Raup, Ashley Sarabok, Jennifer Oswald, Robert Carr, Ashley Murtha, Tim Smith, Linda Barry, and Megan Bowman.
For more information about Momentum and its services, contact Megan Bowman at 717-214-8000 x21 or via Email at mbowman@m-inc.com.
Momentum, Inc. is a women-owned Management Consulting firm based in Camp Hill, Pennsylvania, that specializes in Management Consulting, Process Improvement, Project Management and Implementation Support.