Momentum, Inc. Provides ITIL Lunch and Learn at TechQuest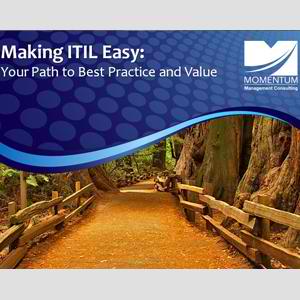 CAMP HILL, PA – Momentum, Inc. hosted a very successful Lunch and Learn entitled "Making ITIL® Easy: Your Path to Best Practice and Value" at TechQuest headquarters located at the historic train station in downtown Harrisburg on Tuesday, May 24, 2011.
The first of three TechQuest Member eXchange Lunch and Learn sessions for 2011 was presented by John Mackprang, who is one of Momentum's ITIL certified consultants, and Brian Keefer, Vice President of Business Development.  Mr. Mackprang and Mr. Keefer presented an examination of ITIL and the benefits of using a phased implementation approach through the eyes of an IT project team member and business development professional.  The unique delivery provided valuable information on ITIL v3 and how utilizing a phased approach can benefit clients, project teams, and business development professionals alike.
For photos of the event and more information about our upcoming TechQuest Member eXchange Lunch and Learn sessions, visit the TechQuest PA website.
For more information about Momentum and its services, contact Megan Bowman at 717-214-8000 x21 or via Email at mbowman@m-inc.com.
Momentum, Inc. is a women-owned Management Consulting firm based in Camp Hill, Pennsylvania, that specializes in Management Consulting, Process Improvement, Project Management and Implementation Support.