Momentum, Inc. Volunteers at Extreme Makeover: Home Edition Site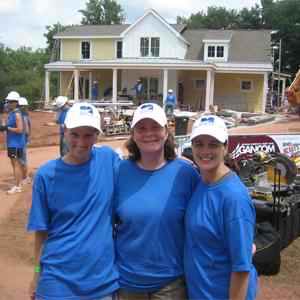 CAMP HILL, PA – Momentum, Inc. employees were able to volunteer at the site of the ABC network Extreme Makeover: Home edition on Thursday where the Keefer family of Newberry Township, York County were the recipients of a new house.
The family was chosen to receive a new house by the television series due to the needs of one of the Keefers' sons after receiving a catastrophic injury in 2008. Brian Keefer, now 23, is a quadriplegic due to a sports injury that kept him from accessing most of the family's colonial style two-story home.
Momentum volunteers were absolutely amazed by the experience. "To be part of something so big, so important, to one young man and his family was incredible," stated Megan Bowman, Momentum's Marketing Specialist. "We were very proud to have been able to be a part of it."
The Keefer family episode of the Extreme Makeover: Home Edition will air on September 25th as the two-hour series premiere.
For more information about Momentum and its services, contact Megan Bowman at 717-214-8000 x21 or via Email at mbowman@m-inc.com.
Momentum, Inc. is a women-owned Management Consulting firm based in Camp Hill, Pennsylvania, that specializes in Management Consulting, Process Improvement, Project Management and Implementation Support.