Momentum Walks for a Healthy Community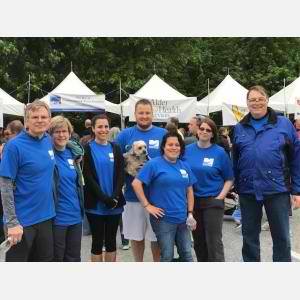 Momentum, Inc. employees supported Suits to Careers by walking in Highmark's Walk for a Healthy Community presented by Highmark Blue Shield. The walk was held on Saturday, May 20, 2017 at Harrisburg Area Community College (HACC).
Highmark Blue Shield holds an annual fundraising walk to help the participating organizations raise money for their individual missions. The goal of the walk is to help benefit local health and human service agencies. Highmark has underwritten all costs of the walk, which in return, allows 100% of the funds raised for Suits to Careers to go directly towards their mission. Suits to Careers participated in the walk in order to raise money and support the public by providing a network of guidance for employment training and mentorship in addition to providing professional clothes for men and women. The organization raised $3,800 from the event.
Momentum, Inc. supported Suits to Careers by joining their team to help raise money for the organization as part of their "Sharing Our Success" campaign.  The company started the campaign in 2008 as a way to give back to the local community.
For more information about Suits to Careers, visit www.southcentralpa.dressforsuccess.org.
For more information about Momentum and its services, visit www.m-inc.com.
Momentum, Inc. is a women-owned Management Consulting firm based in Camp Hill, Pennsylvania, that specializes in Management Consulting, Process Improvement, Project Management and Implementation Support.